Audible Advocate
Mark as New

Bookmark

Subscribe

Email to a Friend
I got my Quiet Comfort 35 for Christmas and have loved them. I generally switch back and forth between being paired from my Samsung Galaxy S7 and my Asus laptop without any problems. But the other day the headphones started to act up randomly with my laptop. Everything still works fine when paired with my phone. When I pair with my laptop the audio quality becomes really bad, theres some static, and I can hear exterior noises through the headphones like its being picked up my the microphone. When theres no audio being played, the noise cancelling works normal. Its only when I start playing music or videos that it starts to do this. I'm not sure what to do about it. I've tried to update my firmware but when I go the software page and it says to plug in my headphones to my laptop and then it starts to load for about a second and then jumps back to the previous page that tells you to plug your headphones in. When i do, my laptop continuously jumps back and forth between screens so I cant actually download any new firmware.
Any ideas what this problem could be? I've loved my headphones but this is getting really annoying. I've had to go back to my cheap headphones when I use my laptop which I'm not too happy about.
Thanks for the help!
Greg
1 ACCEPTED SOLUTION
Noisy Narrator
Mark as New

Bookmark

Subscribe

Email to a Friend
@Gregwhiting7 I have an idea what might be wrong.
In the lower right corner, right-click on the audio icon and choose Playback Devices: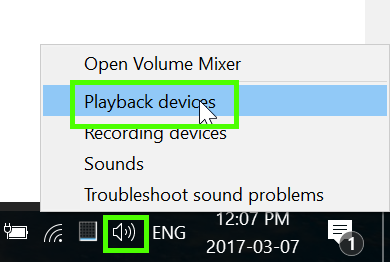 You should see two entries for your Bose headphones: One called HEADSET and one called HEADPHONES. Is your HEADSET marked as the DEFAULT DEVICE, like this?
If so, then right-click on the HEADPHONE entry and mark it as the default device, like this:
This is how it should look, with the headphones being the default device, and the headset being the default communication device: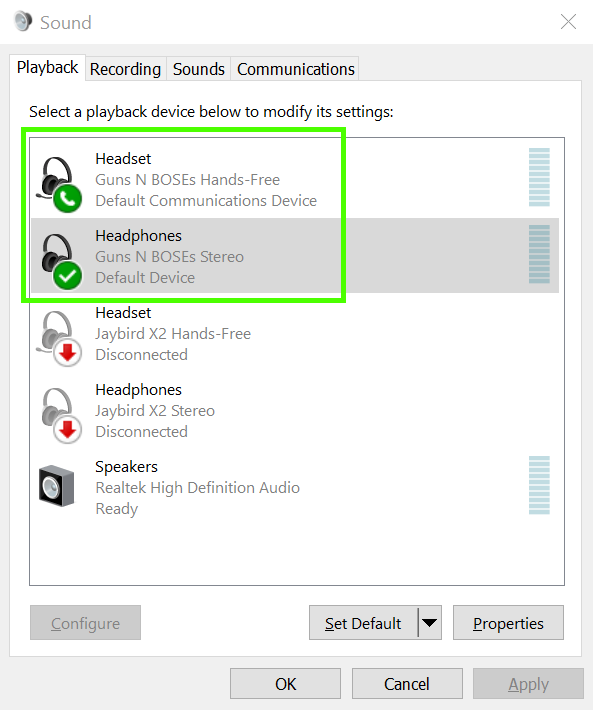 *** Please Note: I do not work for Bose; please don't private message me your support questions!